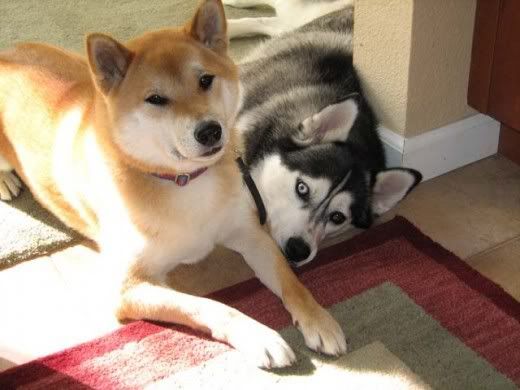 photo credit: Kiara82600
Canine hip dysplasia can be caused by a number of factors, and luckily it can be treated by resorting to surgical methods or naturally through the use of glucosamine for dogs supplements. The way you treat a pooch with the ailment can either determine if can lead a happy, normal life or one riddled with pain and depression. Remember, this ailment comes with a number of hindrances which include the following:

---> Osteoarthritis. Canine hip dysplasia will always come with canine arthritis, mainly because the conditions are interrelated. The joint laxity caused by dysplasia causes the hip socket and femoral head to rub against each other, causing joint inflammation, pain and cartilage deterioration.

---> Inactivity. Mainly because of the arthritis and the awkward placement of the bones, the animal will certainly be inactive since it will be unable to play, perform and move around like a dog with normal hip conditions. This sets the stage for more complications.

---> Obesity and muscle atrophy. Inactive dogs will not be able to exercise and if proper diet is not administered, obesity will start to seep in, thus making hip dysplasia worse. This happens because the extra weight can put more pressure on the affected joints. Muscle atrophy is also known as muscle degeneration, thus weakening the muscles.
One thing common with the above mentioned hindrances is SUFFERING. If you do not want to see your dog be in pain, you need to be able to resort to treatment methods that include the following:

Glucosamine and Chondroitin Supplements
Basically, glucosamine for dogs is naturally produced in the body and directly affect the joints. Though its main sources are shellfish and other seafood, it is always better to resort to supplements since these kinds of food are not recommended on dogs. Here are qualities these supplements are capable of:

---> Glucosamine's main function is to repair, develop and strengthen the cartilage on the joints. Because of this, it can repair the them before dysplasia and arthritis damages them.
---> Chondroitin complements glucosamine mainly by drawing water and nutrients unto the joint.
---> These two compounds possess anti-inflammatory substances that can relieve both the pain and stiffness. Some may even contain Omega 3 and 6 to aid in relief.

Rather than resorting to non-steroidal anti-inflammatory drugs, it is better to resort to both of these supplements given that they have long term positive health effects.

Surgery
Although glucosamine for dogs is a cheaper and viable option than surgery, you may want to resort to the following procedures especially if the arthritic conditions are highly severe. Here are two notable ones:

---> Femoral Head Osteotomy. To put it simply, this is the process of removing the femoral head, which is the part of the femur that attaches the bone unto the socket. It is usually this part of the bone that is inflamed and severely damaged. Its removal effectively ends arthritic conditions, and 70% of mobility is restored since a new joint is formed by the scar tissue. However, this can only be performed on medium sized dogs weighing 20-45 lbs.
---> Total hip replacement. This surgical procedure involves the removal of the hip socket and femoral head and replacing it with artificial joints. This restores 95% of mobility and has no complications whatsoever.